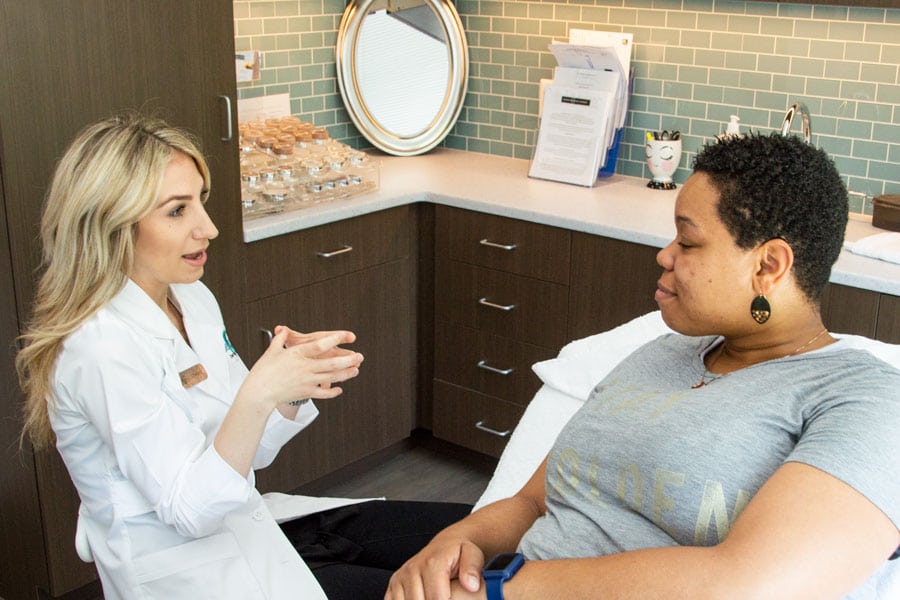 We all know that skincare products are an investment. In this instance, you really do get what you pay for. However, this means that some products have amazing benefits and include less than desirable ingredients. The best way to make sure you're doing what you need to do to protect your skin health and protect your investment is to talk to your licensed aesthetician at your board certified dermatologist's office. 
At Aesthetic & Dermatology Center, we offer complimentary cosmetic consults to help everyone ensure they're getting the right, high-quality skincare products they need to reach their goals and protect their investment. 
Get a Professional Opinion
Talk to our aesthetician about your skin and your skincare needs. If you aren't sure what kind of products would best benefit you and your aesthetic goals, talk to Chelsea about making sure you're investing in the right products. There are so many types of products, brands, and ingredients, that the value of a professional evaluation of your skin and discussion about your goals cannot be underestimated. 
Read ingredients Lists 
We know this goes without saying, but different ingredients do different things for your skin. If you aren't sure about any of the ingredients in the products you're using or considering, talk to your clinical aesthetician to determine which ones are best for you. There are various reasons that you may want to avoid specific ingredients or ingredients you may want to seek out. For instance, if it's dry, you'll want to find a product that hydrates, and if you're pregnant, you'll want to avoid numerous common ingredients. No matter your situation, you should always be mindful of the products you are choosing. 
Always talk to your licensed clinical aesthetician about the products you're choosing if you're unsure about the ingredients. Protecting your investment means making the right investment in the first place. 
Research 
The power of doing your own research is profound. However, searching through research to find reliable and credible resources can be difficult. Being armed with knowledge is the best way to make sure you're doing what is truly best for your skin and overall health. We know that the internet is full of accurate information and just as many opinions. During the research process, make sure that you trust your sources and understand the terms being used to describe the products and their ingredients. That's why we have Chelsea here at our office: to make things easy for you while finding the best fit of prescription-grade skin care products designed just for you.
When you're protecting the investment you're making in skincare products, you have to know what your options are to know that you're making the right purchase to begin with. 
Be Mindful of Where You Purchase
There are certain products that you can only buy from a dermatologist's office. If you find these products online at a cheaper price, you should be wary and make sure the vendor is someone you trust before making the purchase. The best way to know you're getting the product you're paying for is by visiting your dermatologist's office and buying your products directly from there. 
At Aesthetic & Dermatology Center, we understand the value of looking good and feeling good, and we are proud to help you reach all of your goals.
Call Aesthetic & Dermatology Canter today at (301) 610-0663 to schedule your exam with Chelsea, the world's best aesthetician! 
All of the information in this blog are for informational purposes only and should not be treated as medical advice. Always speak to your board-certified dermatologist before starting or stopping a treatment plan. To learn more about how this information can and cannot be used, see our site disclaimer.