Around 60 million Americans suffer from hair loss each year. For women over the age of 60, the chances of facing significant hair loss are around 80%. Even though it's natural, female hair loss and severe hair thinning can take a toll on a woman's confidence. Luckily, there are effective laser procedures available to ensure significant new hair growth in women.  
What Causes Hair Loss?
The average person loses around 50-100 strands of hair each day, but those suffering from hair loss can lose hundreds of strands of hair, leaving light bald patches around the scalp. Here are a few common causes of female hair loss:
Change in Hormones: Hair loss may be caused by a change in hormones, such as pregnancy, childbirth, or menopause.
Genetics: Genetics is a common cause of hair loss. This is often referred to as "female-pattern baldness," or the thinning of hair along the crown of the scalp. 
Medical Condition: Medical conditions like alopecia areata and trichotillomania may cause female hair loss. Additionally, medical treatments like radiation may stunt hair growth and cause significant hair loss.  Thyroid disease can also contribute to hair loss.  
Supplements/Medications/Drugs: Prescriptions and treatments targeting cancer, arthritis, depression, heart problems, gout, and high blood pressure may cause hair thinning and/or hair loss.
Nutrition and Diet: Diet and nutrition may also affect female hair loss. For example, too much Vitamin A and not enough protein may cause mild thinning or hair rejuvenation problems.
Stress: It is common for women to lose excessive amounts of hair while living through stressful situations and events. This type of hair loss is normally temporary. 
Female Hair Loss Treatments
While you may be inclined to try over-the-counter products or wigs to remedy hair loss, Lutronic's KeraLase™ treatment is the latest innovation in natural hair growth therapy. KeraLase™ is a laser procedure that is non-surgical and minimally painful, making it perfect for both women and men looking for a non-invasive hair rejuvenation treatment.
The treatment is a combination of Lutronic's LaseMD™ laser and the KeraFactor Growth Factor Serum. First, the patient will receive a LaseMD™ laser treatment which creates tiny micro-channels in the scalp. These micro-channels enhance the absorption of the topically applied growth factors, stimulating new hair growth in the process.  
After the patient receives the laser treatment and the micro-channels are in place, our laser skin specialist Dr. Walia will apply the KeraFactor Peptide Complex directly to the scalp. These micro-channels allow the serum to deeply penetrate the scalp for optimal results and hair rejuvenation.
See before and after images of the KeraLase™ treatment below: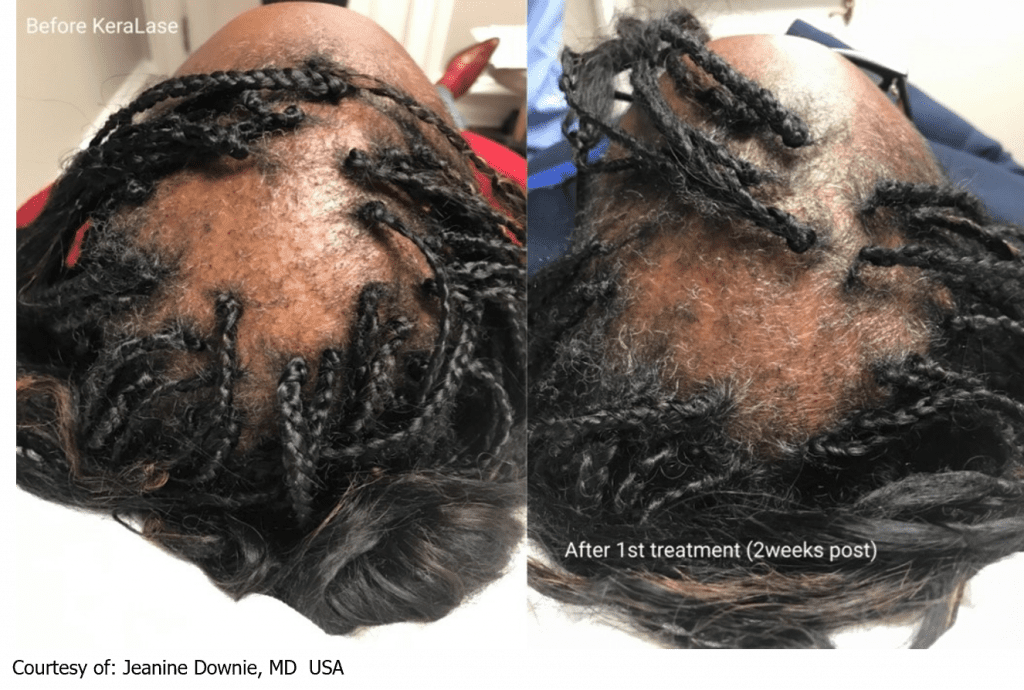 At the Aesthetic & Dermatology Center, fellowship-trained dermatologic laser surgeon, Dr. Sunny Walia, now offers the breakthrough KeraLase™ treatment to patients suffering from both male and female hair loss.  
The information contained in this post is intended for informational purposes and does not constitute professional medical advice. Always speak with your healthcare provider about the best treatment for you.