Chronic Spontaneous Urticaria
Actively enrolling Patients with Chronic Spontaneous Urticaria (severe hives)
Another clinical trial we are currently running concerns individuals with Chronic Spontaneous Urticaria (severe hives). If you think you may qualify and are interested in trying an investigative treatment, click the image below or give us a call at (301) 610-0663 to see if you're eligible.
We understand that Chronic Spontaneous Urticaria is uncomfortable and sometimes painful, but you don't have to deal with it! This new development in Chronic Spontaneous Urticaria could be the solution you've been waiting for!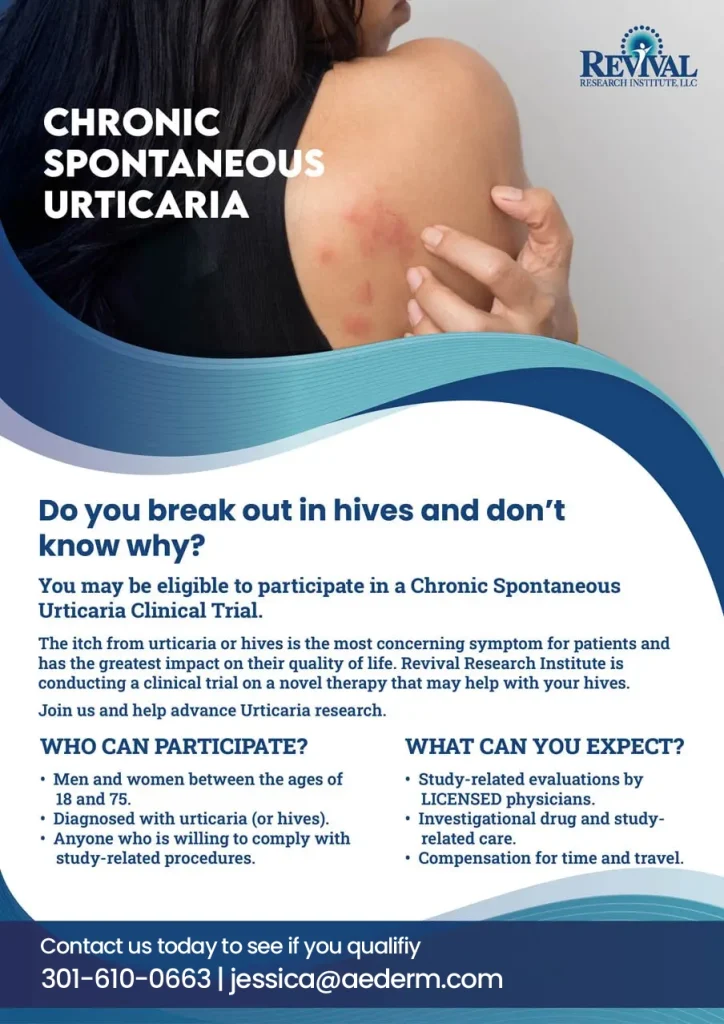 Key Eligibility:
Age: 18 – 75 years
Gender: Male & Female
Conditiion: Chronic Spontaneous Urticaria
Current Status: Recruting
Location: Rockville, MD 20850
Do you break out in hives and don't know why?
You may be eligible to participate in a Chronic Spontaneous Urticaria Clinical Trial.
The itch from urticaria or hives is the most concerning symptom for patients and has the greatest impact on their quality of life. Revival Research Institute is conducting a clinical trial on a novel therapy that may help with your hives.
We are currently enrolling people suffering from chronic spontaneous urticaria in a phase 3 research trial. The purpose of the clinical trial is to test out the safety and efficacy of the investigational product in comparison to a biosimilar medication that may be able to help relieve symptoms of hives. Join us and help advance Urticaria research.
WHO CAN PARTICIPATE?
Men and women between the ages of 18 and 75.
Diagnosed with urticaria (or hives).
Anyone who is willing to comply with study-related procedures.
WHAT CAN YOU EXPECT?
Study-related evaluations by our board-certified physicians.
Investigational drug and study-related care.
Compensation for time and travel.
Want more information about our clinical trials?  Fill out the form and we'll contact you with more details!