At Aesthetic & Dermatology Center, we understand that as your skin starts to lose volume and begins to flatten or sag, your confidence may begin to do the same. For thin lines around the mouth, for fuller lips, or to fill those under eye hollow (an off label use), Belotero Balance® is an effective filler that will help restore your confidence. Our expert team is devoted to providing you the high-quality care that you deserve to get you back to living your best life and being your best self.
Why Choose Belotero Balance®?
Unlike treatments like BOTOX®, instead of affecting the muscles below the wrinkles and lines, Belotero Balance® actually fills in the smaller lines around the mouth, or adds volume to the lips or under eye hollows. This dermal filler giving you a more youthful appearance immediately.
What Can Belotero Balance® Treat?
Fine lines and wrinkles around eyes, mouth, and chin
Crow's feet
Vertical Lip Lines above and around the lips
Fuller lips
Under eye hollows (off label)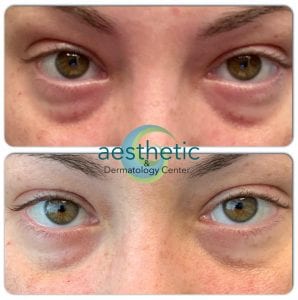 What Can I Expect After Treatment?
During your procedure, Dr. Lawrence Green at Aesthetic & Dermatology Center will inject Belotero Balance® directly beneath your skin. This quick procedure typically takes one office visit. Because of his experience and teaching with Beletero, Dr Green is considered by Beletero's manufacturers to be one of their national "expert injectors."
What Can I Expect After Treatment?
Generally, you can expect to see the results of Belotero Balance® immediately after treatment, and they can last for up to six to 9 months.
To learn more about how Belotero Balance® can help you look younger, call our office today at (301) 610-0663 to schedule your appointment with Rockville and the greater DC area's leading dermatologist.