Resilient Hyaluronic Acid Fillers
We all want to look naturally beautiful. That is why Aesthetic & Dermatology Center is offering a brand new filler called Resilient hyaluronic acid (RHA®). These fillers are uniquely more malleable than other fillers and are able to mold and bend with our expressions. That means that RHA® fillers will give you the most natural results. As a founding partner for these advanced fillers, Dr. Green has unique expertise with these advanced fillers. If you are looking to fill in wrinkles, create new contours to, or add volume to your face, Aesthetic & Dermatology Center is the place to go.
There are three types of RHA® fillers: RHA®2, RHA®3, and RHA®4. Each filler can treat different types of wrinkles, depending on how deep the injection must be placed into the face. These fillers serve as perfect solutions for anyone who wants a non-surgical or gentle aesthetic enhancement.
What Are RHA® Fillers Used For?
Lips
Under-eyes (off label)
Jowls
Nose creases
Lip creases
Cheeks and more!
RHA®2
If you are looking for a natural lip plump, RHA®2 is the perfect choice. This filler is used to fill mild wrinkles, such as the lips. It can also be used to fill and smooth fine lines and wrinkles around the face.
RHA®3
If you feel that your skin needs a bit more of a lift, Dr. Green may recommend RHA®3. This filler can target deeper wrinkles around the nasolabial area, lip corners, and jowls. Using a cannula the RHA®3 filler plumps and smooths out your wrinkles like a magic eraser.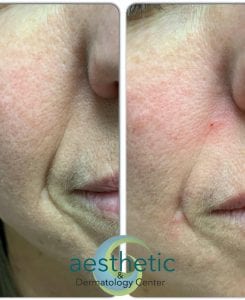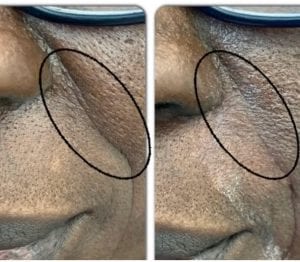 RHA®4 
For deep wrinkles on the face, specifically in the cheeks or jowls, Dr. Green may recommend RHA®4. Deep facial creases are often due to repeated scrunching movements and expressions. The RHA®4 filler is meant to target the deepest wrinkles on the face and bring volume to those areas. It can also be used to contour the cheeks and jawline and correct facial folds.
Who is a Candidate for RHA® Fillers?
Anyone who wants to add volume, fill in lines, or smooth the contours to their face is a candidate for RHA® Fillers. Consult your board-certified dermatologist, Dr. Green, to discuss which filler is best for your skin.
How Long Do RHA® Fillers Last?
Unlike other fillers, RHA® lasts for approximately 9 to 18 months. Results will depend on the age, lifestyle, and area treated.
About the Procedure
RHA® Filler treatments typically take around 15-25 minutes. Since these injections contain lidocaine, an anesthetic medicine, parts of your face in and around the treatment area may feel numb for a few hours. Immediately after your treatment, Dr. Green may massage your face to further disperse the gel throughout the injection site.
Touch-ups may be considered 2-4 weeks after the patient has received the injections.
Talk to Dr. Green about how RHA® Fillers can help you fill in wrinkles and add volume to your face. Call Aesthetic & Dermatology Center today at (301) 610-0663 or request an appointment to schedule your appointment with Dr. Green.